Being a mommy and Daddy has been such a wonderful experience! Truly children are a heritage from the Lord. Praise Jesus!
Below are some snapshots of life from the past month or so. Rachel and I have been pressed to consider afresh who we live for, and what our goals are for ourselves and for our children. Specifically, we've been meditating on the following verses:
Go ye therefore, and teach all nations, baptizing them in the name of the Father, and of the Son, and of the Holy Ghost: Teaching them to observe all things whatsoever I have commanded you: and, lo, I am with you alway, even unto the end of the world. Amen.
Matthew 28:19-20
Are we going? Are we sending? Are we setting up our family, lifestyle and education plans in such a way to prepare our children to go?
If you want to be challenged in this area along with us, read this book. It just might change your Christianity.
She always looks towards the light with wonder and curiosity. It could be a window, a lamp, or the blue sky... She loves the light!
Learning how to smile and laugh. With a mom like Rachel, she is sure to laugh well!
All dressed up. :)
Four generations. Memere, Mimi, Mommy, and Baby!
"Hi Mom! I'm getting bigger and older-looking every single day!"
Baby selfies are the best! Patience really enjoys her "blanket time". Sometimes she'll cry and fuss until you put her on her blanket, and then she immediately get happy and excited.
Brief visit to a Boston-area beach. I don't think Patience fully appreciated the beauty of the ocean, even at night...
Hanging out with Daddy as he takes care of the leaves.
Hanging out with Mommy!
Those eyes..... It's so much fun to see Patience's personality start to gain shape and reveal itself. So far she is fairly quiet, enjoys people, enjoys alone time, and loves to observe things. Other than her nightly "midnight snack", she usually sleeps through the night. She's what most people label an "easy baby".
A cabbage patch wig/hat! Thank you so much Mimi! :)
First legit book reading session.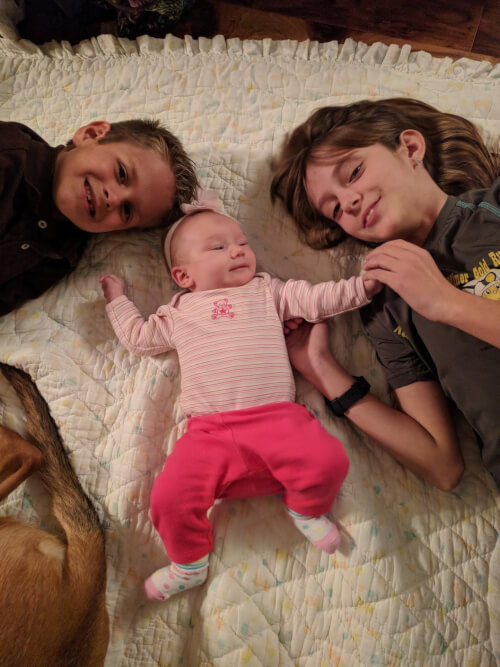 Hanging out with older cousins!